This style of dance has been featured on the hit TV show "So You Think You Can Dance." It has numerous styles that range from, lyrical, contemporary, urban funk to musical theater. It is a versatile, contemporary and exciting dance form which taps into your most energetic moods.
The warm-up will work on stretching, aligning, strengthening and conditioning your body. Included in the warm –up are exercises for the development of basic dance technique. It also introduces specific jazz movements that will later be incorporated into dance combinations. At the conclusion of the warm-up, the students perform movements across the floor that stress the technical approach to dance steps. The culmination of the lesson is the learning and performing of a dance combination. This is a combination of movements using all the elements of dance and testing the dancer's technique, coordination and memory.

NOTE: Students are expected to master the basics at each level before progressing to the next, and are admitted into upper levels only with prior experience or approval of the instructor.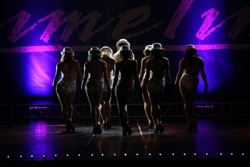 New season begins Aug 3rd – Register today!