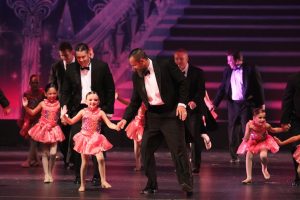 $195 Per couple.
Includes:
·  5 rehearsals
·  Dancer's costume
·  Dad's tuxedo rental
·  Special Seating for dad in the theater
+ $60 per additional daughter (costume)
Form & payment due by March 15th
One of the most beloved parts of the recital performance! The Father Daughter dance provides dads the opportunity to dance with their daughters during the recital performance!  Last year over 250 dads participated with their daughters. We also have a few grandpas, uncles and family friends perform. This is a special time for the dancers to have fun with their favorite dance partner.
Dads and daughters attend four rehearsals at the south studio where they are taught a very "father-friendly" routine. Then they have a final dress rehearsal at the Lakeside High School theater, as well as pictures.
About halfway during your dancer's recital performance, the dads and daughters take the stage and show everyone what they have learned together at their rehearsals. It is the sweetest thing ever and usually the moms are in the audience with smiles and/or happy tears! TDC has some dads who have been participating in Father Daughter since their dancer was teeny tiny, through high school graduation. It is a wonderful way for dads to spend time with their daughters and participate in their activity.
 ORANGE Group
Approx. Ages 3 to 6
ORANGE VIDEOS- Coming Soon!
YELLOW Group
Approx. Ages 7 to 9
PINK VIDEOS- Coming Soon!
BLUE Group
Approx. Ages 10 +
PURPLE VIDEOS- Coming Soon!