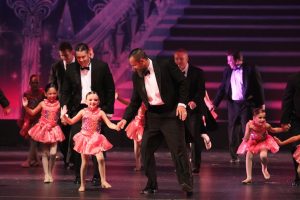 One of the most beloved parts of the recital performance! The Father Daughter dance provides dads the opportunity to dance with their daughters during the recital performance!  Last year over 250 dads participated with their daughters. We also have a few grandpas, uncles and family friends perform. This is a special time for the dancers to have fun with their favorite dance partner.
Dads and daughters attend four rehearsals at the south studio where they are taught a very "father-friendly" routine. Then they have a final dress rehearsal at the Lakeside High School theater, as well as pictures.
Start Times By Color:
Purple- 0:00
Blue- 1:02
Yellow- 3:24
Orange- 4:30
Finale-  5:17
Personalized Father/Daughter schedules will be e-mailed to each family by Friday, April 5th.  Dancers will also receive a paper copy of the schedule in their dance class April 8th-13th.
Studio Rehearsals 1 & 2 (By Color Group)
Orange
(5/11 & 6/1)

9:30-10:15 – Shows 1 & 2
10:15-11:00 – Shows 11 & 12
11:00-11:45 – Shows 5 & 10
12:30-1:15 – Shows 8 & 9
1:15-2:00 – Shows 6 & 7
2:30-3:15 – Shows 3 & 4
Yellow
(5/11 & 6/1)

9:30-10:15 – Shows 5 & 10
10:15-11:00 – Shows 1 & 2
11:00-11:45 – Shows 11, 12 & 13
12:30-1:15 – Shows 8 & 9
1:15-2:00 – Shows 3 & 4
2:30-3:15 – Shows 6 & 7
Blue
(5/10 & 5/31)

6:00-7:15 – Shows 1-7
7:15-8:30 – Shows 8-13
Purple
(5/22 & 5/31)

6:00-8:30 – All Shows
Studio Rehearsals 3 & 4 (By Show)
Show Rehearsals
(6/22 & 7/13)

9:00-9:30 – Show 13
9:30-10:15 – Shows 1 & 2
10:15-11:00 – Shows 11 & 12
11:00-11:45 – Shows 5 & 10
12:30 – 1:15 – Shows 8 & 9
1:15-2:00 – Shows 6 & 7
2:30-3:15 – Shows 3 & 4