Tap is an exciting dance form that makes you the musician along with the dancer. It explores the use of smaller muscles of the feet and body, along with the larger ones. Significance is placed on the articulation of tap sounds while working to perform them "close to the floor" and on the "balls of their feet" along with "style and presentation". Emphasis is placed on the fundamental rhythms, body alignment, level, accenting, shading and weight changes of tap dancing.
The students will begin their development of the tap vocabulary. Every class includes warm ups, technique, across the floor work and a dance combination.
NOTE: Students are expected to master the basics at each level before progressing to the next, and are admitted into upper levels only with prior experience or approval of the instructor.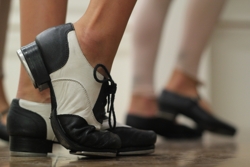 New season begins Aug 3rd – Register Today