Hip-Hop dance encompasses many of the classical dance styles, but is presented in a street or non-traditional format.  The student is introduced to rhythm, musicality, control, dynamics, posture, and performance.  Though hip-hop is usually high energy, some classes are now taught to use more isolation techniques.
The goal of this class is to provide a framework of choreography in which each dancer will be able to add their own personal style and attitude.
NOTE: Students are expected to master the basics at each level before progressing to the next, and are admitted into upper levels only with prior experience or approval of the instructor.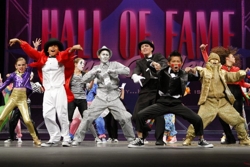 New season begins Aug 3rd – Register Today!