With many new preventative measures in place at the studio, we will resume in-person classes on June 

1st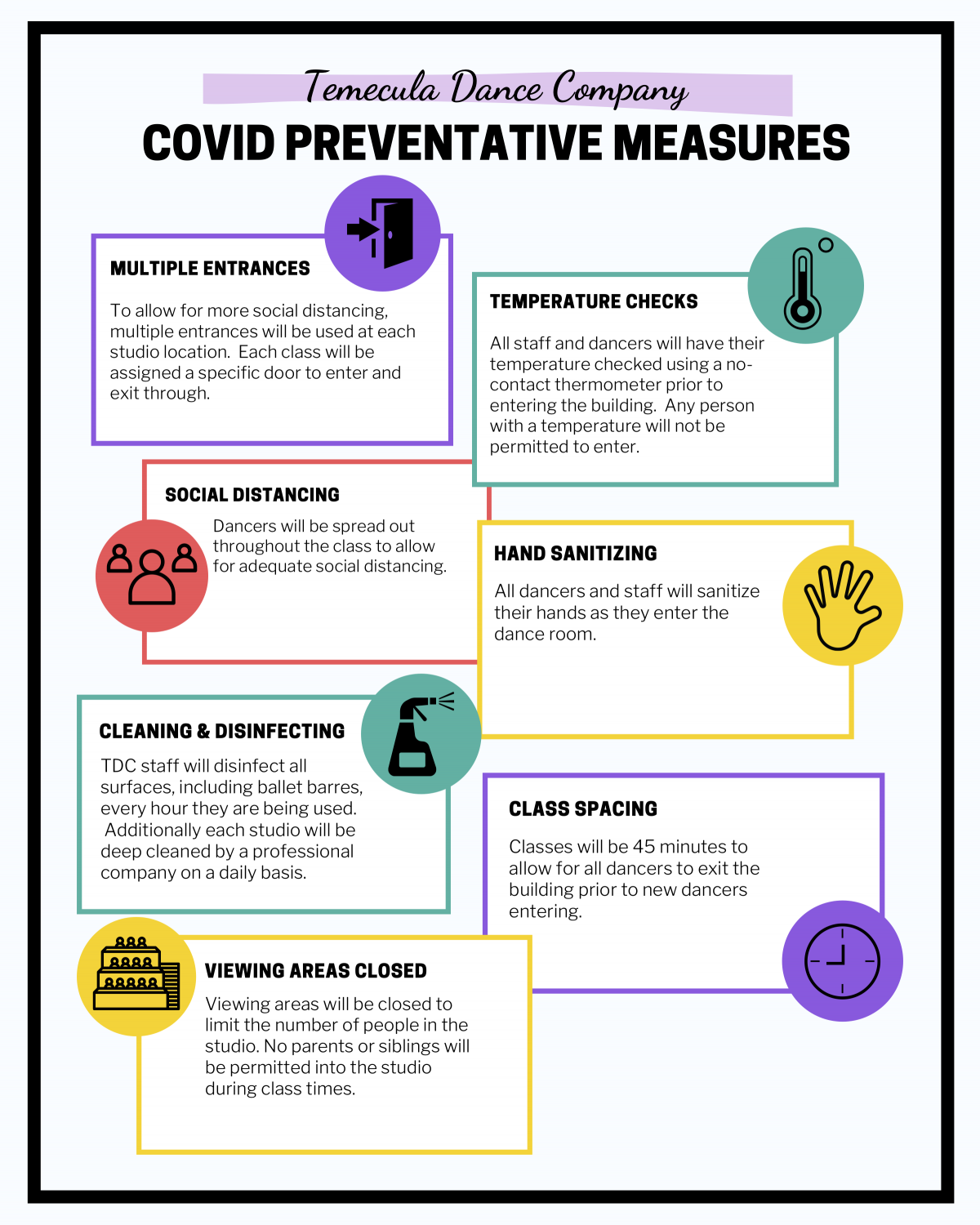 We know so many of our dancers and families are ready to return to the studio, and we are looking forward to providing a safe and structured environment for kids in the community to participate in physical activity. We also respect that some dancers are not quite ready to come back into the studio, and we will continue to offer some virtual class options for those dancers.  Just let us know if you would like to transfer your dancer into one of these classes.
Below are some frequently asked questions regarding the studio re-opening for in-person classes.  If you have specific questions, feel free to call or email the studio. 
Phone: 951-699-9952
Email: info@temeculadancecompany.com
---
What if I do not want my dancer to come into the studio at this time?
No problem at all. This is a very unusual situation, and we encourage each family to do what is best for them. We can get your dancer transferred to one of our summer session classes that will be meeting virtually.
What if I'm not ready for my dancer to come into the studio yet, but I would still like them to participate in recital?
You will still have access to the class video folder, where teachers will continue to drop a video of the recital dance each week. Whenever you are ready for your dancer to come back into the studio, the teacher will make sure your dancer gets all caught up on the recital routine.
Why can't you offer all classes virtually? / Why aren't you offering my child's style of dance virtually?
Unfortunately we are logistically unable to provide virtual classes for every age group and style in addition to our regular class schedule. Our teachers want to fully engage with the students in their class, and they can't provide meaningful feedback for either group of students if they are simultaneously teaching students live and virtually. However, we have started an interest list in order to evaluate other virtual styles we should add. Please let us know if there is a style you are interested in us adding virtually.
Can I get a refund for my recital costume?
The recital costumes have already been made, and the studio is unable to get a refund for the costume and in turn refund you. If you would not like to participate in recital, we can call you as soon as your dancer's costume arrives and you can pick it up.
Are you still planning on having recital?
Yes, we are still planning on having a recital for dancers to showcase their routines for their families.  The shows may just look a little different from what was originally planned.  We are currently planning to hold smaller shows at an outdoor venue.  Stay tuned for more details!
What if my combo dancer has to go to the bathroom during class?
We will have class helpers in our combo classes to help facilitate bathroom needs, however we understand that you may want to come in and help your dancer. We will have name tags at all of the entrances where you can leave your cell phone information and your dancer can wear the name tag to class. If your dancer needs to use the restroom or has another need, we will call/text you right away and will allow for quick entry into the studio so you can help your child. We will also be streaming all classes on Zoom for you to watch from your car, so the teacher will be able to quickly communicate with you through that platform as well.
Does my dancer have to wear a mask? Will teachers be wearing masks?
We are following the Riverside County guidelines and allowing all staff and dancers to make the decision to wear a mask based on their own preference. It is challenging for most young children to leave a mask on for 45 minutes of physical activity without touching or playing with the mask, but any dancers who would like to wear one are welcome to.