"TDC's "Raise the Barre" fitness class is an adult group class that combines elements of ballet, pilates, sports conditioning, and stretching for a truly unique workout experience. You'll spend an hour listening to upbeat, fun music while stregthening, toning, and sculpting common problem areas: seats, thighs, upper body, abs and core. The majority of class is done at the ballet bare but remember it's not your typical ballet class.
"Raise the Barre" at TDC and reach your own personal fitness goals!
Kids club is available for $2 each visit.
CLICK HERE FOR OUR FULL ADULT SCHEDULE INCLUDING:
Traditional Ballet
Hip Hop
Jazz
Tap
NOTE: Students are expected to master the basics at each level before progressing to the next, and are admitted into upper levels only with prior experience or approval of the instructor.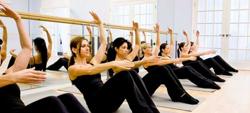 Pre-Register Today – Classes Begin August 6th